Top 5 Threats Devices Pose to Data Protection & Privacy

Data Networks
What threats should your organization look out for concerning data protection and privacy?
It's predicted that by 2023, Chief Information Officers (CIOs) will be responsible for over 3x the endpoints for which they were responsible in 2018 due to the rapid evolution of IoT trends and technologies. With billions of physical devices worldwide connected to the internet today, this prediction is well on its way to becoming a reality. However, the rapid evolution of IoT technology has proven to be a double-edged sword from a cybersecurity and compliance standpoint.
IoT devices produce immense volumes of various types of data that are stored, managed, and shared within an organization's IT infrastructure. Hence, they add to the risk landscape in more ways than one with respect to cybersecurity, third-party risk, and compliance with data protection regulations.
Don't let anyone tell you that securing IoT devices is only about securing the device itself. It's also about securing the access that an IoT device provides. Besides looking at the device's built-in vulnerabilities, you must also consider where and how IoT devices connect to your network, how they process and store data, and their user interface.
Over the course of this blog, we'll tell you how IoT devices can be exploited, the top 5 threats they pose to data protection and privacy, and why you must secure them from a compliance point of view. Please pay close attention so you can protect your organization from security disasters and avoid penalties and lawsuits that could arise from non-compliance with necessary regulations.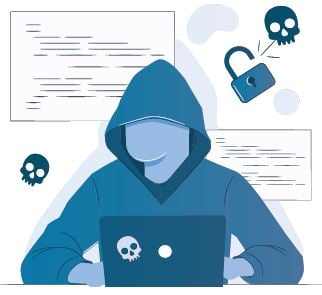 How IoT Devices Can Be Exploited
There are primarily three attack vectors through which IoT devices can be compromised:
The devices themselves

: Often, cybercriminals exploit IoT device vulnerabilities that exist in its memory, firmware, physical interface, Web interface, and network services. Additionally, other aspects such as unsecure default settings, outdated components, and unsecure update mechanisms are also exploited.

Communication channels

: An IoT device could also be compromised by attacking the channels used to connect it with another IoT device. Security issues with the protocols used in IoT systems can put the entire network at risk, making IoT systems susceptible to network attacks like denial of service (DoS) and spoofing.

Applications and software

: Nefarious cybercriminals can exploit vulnerabilities in web applications and related software for IoT devices. For example, Web applications can be targeted to steal user credentials or push malware.
Five Major Threats to Avoid
Having understood how IoT devices can be exploited to cause harm to your organization, let's now look at five major threats these devices pose to data protection and privacy. If you don't take the necessary measures to mitigate these threats and maintain documented evidence of it, you can be penalized for non-compliance with at least one data protection regulation at some point.
1. Abundant and Unauthorized Data Collection
IoT sensors and devices collect enormous amounts of very specific data about the environment they are deployed in as well as the users. They even store and share sensitive data without one's knowledge or explicit permission. Therefore, as per the compliance regulations applicable to your business or industry, this data must be secured the same way any other sensitive data in your business' network would. For example, if you collect medical data in the U.S. through a set of IoT devices, you must safeguard it as per HIPAA regulations.
2. A Backdoor Entry for Cybercriminals
All it takes for a cybercriminal to ransack your network is a single IoT device that's not fully secured. Even a malicious insider could carry out a full-fledged cyberattack on your organization using an unsecure IoT device. Leaving these threats unchecked is unacceptable under any data protection regulation and hence warrants your immediate attention.
About 60% of IoT devices are vulnerable to medium- or high-severity attacks.1
Over 95% of all IoT device traffic is unencrypted.2
About 72% of organizations experienced an increase in endpoint and IoT security incidents last year and 56% of organizations expect to be compromised via an endpoint or IoT-originated attack within the next 12 months.3
3. A Single Security Policy Doesn't Cut It
IoT ecosystems are complex and add to the complexity of your IT environment as well. Given their unique nature, it's neither realistic nor currently achievable to implement a "one size fits all" security policy for all IoT devices. The unprecedented surge in remote work has only amplified this challenge further. For example, while many businesses do not have personal devices in the office during the COVID-19 pandemic, employees have them at their homes (their new offices), which means business-related work and data could be accessed by exploiting such devices.
The Ponemon Institute's 2021 Data Exposure Report stated that home networks are 71% less secure than office networks. Should your organization fail to mitigate this threat, it could result in severe consequences when the compliance auditor comes knocking.
4. Inability to Train Everyone on IoT Security
Security awareness training is a powerful way to curtail the likelihood and impact of cyberattacks. However, the lack of broad universal knowledge and awareness about IoT at the user level poses a potent threat to the protection of IoT data. It is an enormous challenge to train everyone on IoT functionality and the risks it brings to the table. Compliance regulations worldwide consider security awareness training a major piece of the data protection puzzle, which, if missing, could ensure a compliance audit doesn't go in your organization's favor.
5. Threat to Privacy
It's undeniable that IoT devices pose a direct threat to the privacy of both your clients and even their customers. With every bit of data they provide to your organization through an IoT device, they surrender a bit of their privacy. Therefore, it's your responsibility to protect their privacy and data. Failing to do so could cost you dearly. For example, as per the EU's GDPR, every user must have the "right to be forgotten," and if your organization fails to provide this, you will be penalized for non-compliance.
IoT Risks and Compliance
While there are no universal regulatory requirements or "standards" for the security of IoT devices, please do not assume that risks to IoT data and devices aren't on the radar of regulators worldwide. This isn't just a matter of cybersecurity but compliance as well. While investing in the right security solutions will enhance your organization's cybersecurity posture against IoT-related risks, you certainly need assistance in tackling this challenge from a compliance point of view.
When you rely on Managed Cybersecurity from Data Networks to managed your organization's compliance, we can help you detect IoT risks in regular compliance risk assessments, undertake remediation measures, and produce documented evidence of compliance. To top it all off, you will be able to prevent IoT-related risks associated with compliance standards such as HIPAA, GDPR, CMMC, and your cyber insurance policy.
Learn more by contacting us or checking out our online resources.
…